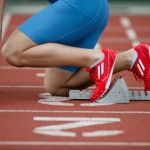 This is the time when those who appreciate the top athleticism in the world are in their element – during the Summer Olympics. There are so many inspiring stories – and what seem to be Herculean efforts to win a medal for one's country. You can't look at any of the categories of sport without finding lessons in inspiration, determination, focus, and massive efforts.
In business success there are incredible parallels, while not with one's body as their medium, or for national pride – but important all the same to grow the business, help create a healthy community, and a solvent country. It IS national pride. Just think of some of the story lines we've been hearing about and how they tie into growing a midmarket company:
Misty May Trainor and Kerri Walsh showed what it takes to follow a dream, work a plan, and get the Gold in Women's Volleyball. One business lesson that was revealed by Misty May Trainor's husband, Matt Trainor (a professional athlete as well) was that Misty and Kerri worked on new communication strategies. They were veteran medalists, yet they needed to improve and found ways to better communicate which obviously worked.
Double-amputee Oscar Pistorius appealed for the right to compete in the Olympics. He didn't make it to the finals for the 400 meters individual but will have his chance to compete in the 4 x 400 later today with his South African teammates. The "Blade Runner" as he is called clearly shows that setting high goals – what others would even call impossible – are achievable. A man with no legs running in the Olympics – who would have believed that 5 or 10 years ago?
Allyson Felix won the Gold medal for the US in the Women's 200 meter. She had competed in 2004, winning Silver, and 2008, also winning Silver. While she was appreciative to be able to medal, she was not done until she reached her goal of the Gold medal. How did she do it? Hard work, great focus on detail, and coaching with Bob Kersee. Felix is the only woman to run under 22 seconds in the world.
Felix said,
"I used to say I would say give all those world championship medals for a gold medal at the Olympics, but now I'm able to say that I embrace that journey," she said. "I embrace the defeats because that's what pushed me all those years."
So what lessons are here for sellers?
1.Communication is key to success: it sometimes needs to be improved for teams to hold their place in the market and grow in the marketplace
2.Don't let others' opinions of you and your potential get in the way of your success. Only you can determine how far you will go
3.Learn from the setbacks and the losses to create bigger wins.
What is the gold in your territory and your sales plan? How will you reach it?




This post was written as part of the

IBM for Midsize Business

program, which provides midsize businesses with the tools, expertise and solutions they need to become engines of a smarter planet.

Lori Richardson is recognized as one of the "Top 25 Sales Influencers for 2012" and one of "20 Women to Watch in Sales Lead Management". Lori speaks, writes, trains, and consults with inside and outbound sellers in technology and services companies. Subscribe to the award-winning blog and the "Sales Ideas In A Minute" newsletter for tips and strategies in selling.