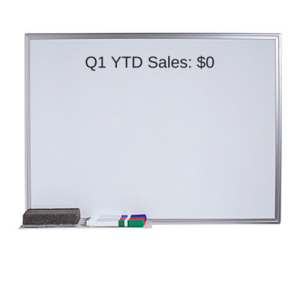 It is a new year and a fresh start for many in the B2B sales world. Having had a monthly or a quarterly sales quota over the course of 15 years or so, I know that good feeling of have a blank slate – but it also can be a tough feeling to start back at zero.
If you are working on a calendar year, than January 5th is a fresh start. Doesn't it feel good to get a fresh start? Doesn't it also feel stressful because we're back at zippo and zilch in many cases? Is this your situation?
Hopefully you have been working in Q4 to set up meetings, demos and conversations in January. This is a sales lesson for everyone. The sales opportunities you plant and nurture today – those inquiries made now - will grow and a percentage of those will evolve into deals in future months. Nothing happens overnight in business-to-business selling unless you are selling a very commoditized product. Most of us here have a complex sale – in other words, it takes multiple conversations and there are multiple people involved.
Here are three ideas to help you find buyers and see if there are opportunities in this fresh new year.
1 - Focus:
Keep your "eye on the prize" or in other words, keep focused on what it is that you will accomplish with your efforts. In order to focus, you need to know what it is that you are to do. In sales, it is primarily to create activities that lead to revenue.
Focus is a verb that means to "pay special attention to something".
As you go about your day, you can only accomplish so many things. If everything is important, then nothing in particular is. A helpful idea is to create a list of things to do in your CRM or calendar program – but don't stop there. Find a way to rate the activities that you need to do.
Example:
I have been given a list of new leads qualified by marketing that I need to reach out to. There are 20 leads on this list, plus I have a separate referral from an executive who was a client of mine at another company I used to work for. He is now at a new company and wants to connect me to their IT executives for a potential meeting.
What do I do first?
Leads from marketing are time sensitive, but I definitely want to call my executive referral this morning – especially because a referred opportunity is the best opportunity to have. At the same time I can't just focus on it, so I must go through the list of leads and call them too. The answer is that I can call all of them this morning – but I lead with the referral. Makes sense?
That word focus also goes for what you do when in the office. No time to clown around or chit chat. Being cordial and friendly is great, but don't get lured into long conversations.
2 - Actions:
As simply as I can put this I will say that you MUST take action to make things happen. Do not procrastinate. Get the tough stuff done first, and your day will go quickly.
Because you are focused, you do the work that is required to identify potential buyers and find those opportunities that are a win for you and for them. Moving these forward and working to find other potential opportunities are full time endeavors.
3 - Honest Evaluation:
Take a look at your pipeline and all of the opportunities you have been nurturing to get to this point. What is real and what is a dream? You must move those dead of faded opportunities backward so that you only have real possibilities to look at and move forward. Ask yourself the right questions to know whether your opportunities are qualified.
Also work to see what your blindspots are. Ask others whom you trust. Regularly say to yourself, "What am I missing here?". By doing that, you'll gain perspective and find new potential buyers and new potential opportunities. If you are stagnant, you won't.

Lori Richardson is recognized on Forbes as one of the "Top 30 Social Sales Influencers" worldwide. Lori speaks, writes, trains, and consults with inside sales teams in mid-sized companies. Subscribe to the award-winning blog and the "Sales Ideas In A Minute" newsletter for sales strategies, tactics, and tips in selling. Increase Opportunities. Expand Your Pipeline. Close More Deals.
email lori@scoremoresales.com | My LinkedIn Profile | twitter | Visit us on google+