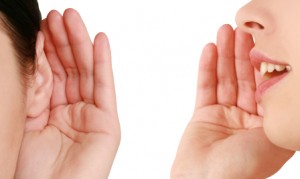 To be successful in selling you must be a student of communication. What I mean when I say that is that selling is all about being a great communicator and learning how to move people forward. By becoming a good (or even great) communicator, you take the first step in mastering selling.
When you are an inside sales rep, you are communicating by voice. e-mail messaging and perhaps video only. You immediately lose the opportunity to "read" someone in person - to see their body language, gauge their interest, and see their focus.
The good news is that video is much more widely used today and you can capture MUCH of that through seeing someone "live" through a webcam. If you are not making video calls for initial meetings, you really should be looking into that. There are a whole host of options - now more than ever, to get you in front of a buyer or in front of a customer who is located more than a short drive away.
There is no doubt that clearer and better communication will help you move sales opportunities forward and build stronger relationships with buyers.
Top Ideas to Help You Communicate Better with Buyers
1. Try the video option. You are having a bad hair day? Don't worry about it - for the increased "connection" you'll have with buyers and initial meetings it will be well worth it. Look into using video for first contacts, and also video email messaging - much more usable now than even a year ago.
2. Become a student of communication. It is a mindset. I'm convinced that this is how I grew so much as a sales professional when I was in my 20's with little life experience and a big huge quota. I joined Toastmasters, attended Dale Carnegie's human relations program, and I read dozens and dozens of books about communication. Every week, write down what you learned about how people communicate. If you look at it that way, you will see the science and the art of the business you are in. Selling is so much about communication it is amazing. How can you be better at it?
3. For inside sellers, start dissecting the word choices you use and what you say in e-mails, in voice messages and directly to someone else on the phone in conversation. I chose the word "dissecting" in the last sentence intentionally - because it is conveys more of a visual than if I had said "looking at" or "analyzing".
In the next weeks we'll be creating a master list of tools to help you master communication - what tools, books, audio, and ideas help you be a better communicator?

Lori Richardson is recognized as one of the "Top 25 Sales Influencers for 2012" and one of "20 Women to Watch in Sales Lead Management". Lori speaks, writes, trains, and consults with inside and outbound sellers in technology and services companies. Subscribe to the award-winning blog and the "Sales Ideas In A Minute" newsletter for sales strategies, tactics, and tips in selling.