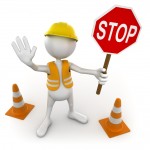 As a seller, there are things that you should not do and then there are major irritants that turn someone far away from you. In sales we know how to push the envelope a bit – how to be bold and how to find ways to stand out.
But within all this creativity happening to get your buyer's attention, there are still some very basic tenets of business building that you must pay attention to.
I get bombarded with requests to look at new products and services. What I am about to write about didn't happen some time ago, it all happened last week. We are adamant that if you are in inside sales (or outbound sales) you must STOP these practices immediately. If your sales leader thinks they are OK or that they work, please send them our way.
1. Stop sending company pitches through LinkedIn. If I'm in need of link building services or ink refills, I'll contact you, not the other way around. This is a 1999 sales tactic and it needs to stop.
Instead, work to build relationships in LinkedIn. If you do not know how, take a class or read some of the great e-books and blog posts on how to make LinkedIn a prospecting tool WITHOUT a desperate attack on just anyone you may be connected to through a LinkedIn Group. Start by having interesting conversations with others there – instead of blanket emails to people connected to you in a group.
2. Stop calling people without a quick scan of their website. I received a cold call from someone who was talking to me as a potential prospect, not as a very strategic potential referrer. Since I had attended a sponsored webinar, the sponsor company was following up to see if I had "any CRM needs" and might want to use their service. I asked this young man if he had seen my website, and he told me that he does not have time to do that. Instead he just calls from a list, and I imagine, "hopes for luck". Even though I could write a review for this product, or tell stories about it and grow huge added visibility for this company, their sales leader has inside reps just dial for dollars. Hope is not a strategy in 2012. Do better, people.
3. Stop having one-sided conversations. A vendor called me last week with an "end of Q1 deal" because he wants to make his numbers. Worse yet, his sales leader may have encouraged him to do that. What part of making your sales number has anything to do with my business needs? To make things worse, he lied to me and said he'd been trying to reach me. Hmm. No messages, so I guess it was by osmosis?
To think that these tactics are still going on all over North America and beyond is what reminds me to mention that selling is a people business and we need to keep talking with sellers to help them learn how to be good citizens and good representatives of their business. When you make calls like that you sound desperate, and desperate is not an attractive quality. Lying is never appropriate – it's just wrong.
If your inside sales team is doing any of these things, work on alternatives – none of these have an "upside" to them – they are time wasters for sellers and they are the worst public relations you can offer potential (make that formerly potential) prospects.
Come up with new, fresh ideas – add some inbound strategies, blog more, and develop Sales Influencers within your team.
In 2012, you need to be ready to work with a more sophisticated buyer – so let's drop the old-school bad tactics, OK? Post your comments and stories – I'd love to hear what others go through as a seller or as a potential buyer. $50 Starbucks card for the best story posted here as a comment (as deemed by our staff, received by 4/10/12 at NOON Pacific time.)
Lori Richardson is recognized as one of the Top 25 Sales Influencers for 2012 and speaks, writes, trains, and consults with inside and outbound sellers in technology and services companies. Subscribe to the award-winning blog and the "Sales Ideas In A Minute" newsletter for tips and strategies in selling.