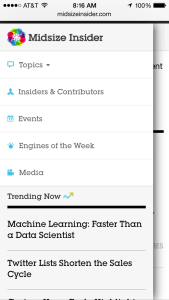 Many mid-sized, mid-market companies have not invested in current technology to make their website effective for those buyers on the go. It is a missed opportunity and it is causing you to leave money on the table. This conversation is directed at B2B companies who are not selling services online. Mobile commerce is an even bigger conversation. For now, let's just talk about those of you selling simple or complex products and services typically by phone, email and in person.
Today's sellers must have ways to help buyer buy on their mobile devices – tablets and smartphones. How does your company's site stack up?
1) Responsive – Go now and type in your website on your mobile phone. If your site was not developed to be responsive, everything will look very small. Try to navigate around and you'll see that it is not a helpful way for new potential buyers to view you. Sure you can learn how to magnify or blow up images to see – but it is making things difficult rather than easy for your customers and buyers.
A responsive website is designed to allow the optimal viewing experience no matter what device you're on. It takes some tweaking for most web designers but is a simple concept to turn into reality. When your big website is optimized for a smart phone, for example, your buyers can review products, services, payment options, and even purchase or initiate a conversation as soon as they think to look you up.
2) Action Oriented – Having a button for a next step is critical to engage first time visitors and returning viewers. You do this with engaging content, such as a report or summary on the topic your visitor is looking for. You are answering their questions and offering potential ideas – not just the old school, "buy from us – we can help you!" When a buyer finds out that you may be able to help and reaches out for a next step, it is much more powerful than you chasing them down first.
Google research has shown that 67% of mobile users are more likely to buy or engage with a mobile-friendly website, and that 57% won't recommend a business with a poorly designed mobile site. Think of yourself as a consumer – is that true for you? Why do you expect something different from your future buyers?
3) Video and Audio – Simple ways to further engage mobile prospective buyers is through audio – such as podcasts, or short video clips about who you serve and what your offerings are.
The bottom line is that your B2B visitors are extremely busy professionals. You must make it simple and easy for them to learn about you and to want to know more. If you can make a great first impression, and engage them in some way, you stand a higher chance of doing business with them as well as measuring your results.
What are you waiting for?

This post was written as part of the IBM for Midsize Business program, which provides midsize businesses with the tools, expertise and solutions they need to become engines of a smarter planet. I've been compensated to contribute to this program, but the opinions expressed in this post are my own and don't necessarily represent IBM's positions, strategies or opinions.

Lori Richardson is recognized on Forbes as one of the "Top 30 Social Sales Influencers" worldwide. Lori speaks, writes, trains, and consults with inside sales teams in mid-sized companies. Subscribe to the award-winning blog and the "Sales Ideas In A Minute" newsletter for sales strategies, tactics, and tips. Increase Opportunities. Expand Your Pipeline. Close More Deals.
email lori@scoremoresales.com | View My LinkedIn Profile | twitter |Visit us on google+