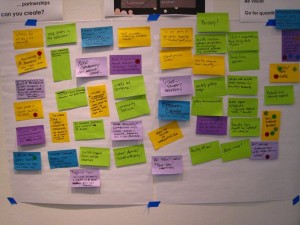 There is nothing like sharing some good ideas to get others thinking and sharing too. In sales this is critical for your success – you cannot get stagnant. Based on great input, here are 25 MORE ideas to add to the 50 Ideas posted yesterday. Let's keep them going!
My co-presenter, sales coach Lynn Hidy from B2B Camp last week added 10 tips, author Robert Terson, Alan from Sales HeartBeat, and business writer M. Sharon Baker each offered one, and business coach Carolyn Coradeschi sent 10 more. I added 2 to round it up to 25. In no particular order, here are more ideas for you to build sales. Please, keep your favorite tips coming!
Learn to prioritize--make a list every night of the next day's activities you want to accomplish, in order of importance. That way you'll make sure that what must be done will be. (Robert Terson)
Just hush and let the prospect tell you how they want to buy! (Alan)
Regularly and consistently, create content your prospects are looking for and add it to your website. (M. Sharon Baker)
Make sure your messaging is perfectly targeted at your buyer. Create buyer personas. (Score More Sales)
Be aligned and work closely with marketing - an aligned company does better than one that is not. (Score More Sales)
Lynn's 10:
1. Create your ideal customer profile THEN develop a way you will 'hear' those characteristics when you're on the phone with them.
2. Write a recommendation for your clients after an engagement – what did you enjoy about working with them?
3. Have a clearly defined prospecting methodology that maps out a 'touch' every 4 to 7 days over a month for your top prospects… then do it – consistently.
4. When you talk with people always talk about what you DO for them…. not what you do.
5. Read something that will help your target market monthly – then share your top insights about it with them (need an example? Check out @actionablebooks).
6. Collaborate – who can make what you offer even BETTER for your prospects and customers?
7. Are you delivering content to attract the people who make decisions to buy what you're selling OR the people who use what you sell? (you need to do both)
8. Do at least one thing DAILY that you can directly tie to one of your BIG goals… which means that you must have a BIG goal that you are working toward!
9. Before you call a prospect OR customer – know how the conversation will HELP them, and make sure you use language that talks about that result.
10. Make sure you pick ONE thing you commit to doing that you learn today before the week is over and another before the month is over.
Carolyn's 10:
1. Be conscious of how often you're actually asking for the sale, for the business, to meet with the decision maker, to get in with and past the gatekeeper.
2. Does your idea stand the test of time? Keep a folder on your desk for sales spontaneous ideas you want to implement. Write them down on pieces of paper or in a notebook. Look them over each week. If they're still important, prioritize them and start implementing.
3. Add a new positive quote to your daily emails or send one to a prospective client or current client and tell them this quote made you think of them.
4. Alternate sending a fun resource or article to prospective clients that has nothing to do with business and make the next contact a business resource.
5. Make prospecting calls a game. Count backwards from your intended goal for the day and adopt the attitude of "How many great people do I get to meet today?"
6. Own the word SUCCESS not PERFECTION.
7. Offer first and then receive. Comb over your linked in groups and pick one interesting contact per day or per week that posts a question. Offer to do a strategy or brainstorming session with them. You may be surprised when they ask how they may support you as well.
8. Reward yourself with self-care (massage, pedicure, golf...) when you to commit to a specific daily or weekly goal and accomplish it.
9. If you have established rapport with your prospect or client and have a reputation of trust and value don't wait to ask for a referral before a sale is consummated. It's all about how you ask. Ask if what you have might be of benefit to their colleagues in other companies.
10. Integrate the word RESOLVE into your daily vocabulary = to act without fear or the determination to act without fear, to act with autonomy and urgency.
Great work, everyone!
What tips have you found help grow front-line sales? We'd love to hear them.

Lori Richardson speaks, writes, and trains on sales strategies for B2B mid-market technology front-line sales teams. Why not sign up for our twice-monthly newsletter, "Sales Ideas In A Minute" or the award-winning blog rss feed?