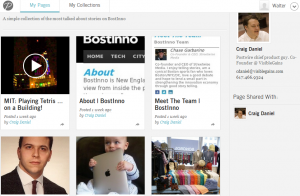 Since this is a holiday for most of us in North America, just a quick note to say that the Score More Sales blog has a NEW and improved RSS feed for your convenience. Please sign up for it here, and get our best stuff delivered to you regularly.
1) Do you have an RSS feed on your blog? RSS feeds make it really easy for people to subscribe to your website and get updates via email or RSS readers. By promoting your feed, you can grow your visibility and ultimately your revenues. When you make it easy for people to follow you in the way that they want to, your following grows.
2) Sales Tool Department: We also love the platform called Postwire, which helps you organize materials that you would send out to a prospective customer OR that you could use to curate an event, or to do training inside our outside of your organization.
Here are 3 links to help you understand this platform and how it can grow revenues:
a) Miles Austin of Fill the Funnel did a great review of Postwire
b) Nancy Nardin of Smart Selling Tools discusses and shares a video about Postwire
c) Here is a page created in Postwire that I curated about Dreamforce - the big annual event Salesforce.com puts on. I also use Postwire to share documents with sales coaching and training clients. It is easy and people like the visual flavor of it.How could you use Postwire? Try it out here.

Please consider adding our new RSS Feed to make it easy for you to get new ideas at your fingertips. Have a great week!

Lori Richardson is recognized as one of the "Top 25 Sales Influencers for 2012" and one of "20 Women to Watch in Sales Lead Management". Lori speaks, writes, trains, and consults with inside and outbound sellers in technology and services companies. Subscribe to the award-winning blog and the "Sales Ideas In A Minute" newsletter for tips and strategies in selling.