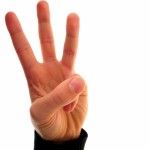 There are three reasons you, as a seller, sales leader, or C-level executive should know about the Top Sales Awards voting process that is going on now. This is the second year of the awards, put on by the JF Corporation. On December 15th there will be a virtual, dial-in ceremony co-hosted by Selling Power's own Gerhard Gschwandtner and JF Corporation's Jonathan Farrington.
1. As a professional, you need to know about some wonderful resources to help you grow business - and not just the same old ones you rely on. How often do you look for a new thought leader to hear from? The Top Sales Awards have nominated twelve - do you read their material? Do you know of all of them?
2. Once you find the right people to help expand your thinking on selling, what tools and assessments are you using in the business? Top Sales Awards has nominations for ten top sales assessment tools, and also for top sales tools and top sales websites. This is critical to know what is out there, especially if you are in a big corporate environment or live in a company silo. It's a big world out there! One idea could change your income, or simply your perspective. Also check out the great articles, e-books, and webinars listed for top honors. It's a treasure-trove of sales knowledge!
3. Finally, yours truly has been nominated - originally set to be a judge, instead the Score More Sales blog has been nominated as a Top Sales and Marketing Blog. We could not be more thrilled, and if you like our blog, we'd encourage you to vote for us here. Note that it does require a bit of effort to vote --you need to, at no cost, join Top Sales World and then go to the category and vote once each day until December 9th when polls close. If you go to the effort of voting, please know how much we appreciate it - I personally thank you!
If you think of yourself as a lifelong learner, working to master your craft of being a business builder and master connector - you will never get bored, and you will always find something new to share and talk about. Learning new things can even be life-changing. I don't know about you, but I run from people and companies (and industries) who think they know everything.
Happy Thanksgiving to our many American readers - we'll share more about some of the great websites that are mentioned in the Top Sales Awards in our next post.
Lori Richardson speaks, writes, and blogs about ways that B2B companies (and their salespeople) can grow revenues. Check out the blog and get our monthly newsletter with quick tips to grow sales. Sign up here for a no-cost phone conversation about your sales challenge or stumbling block.