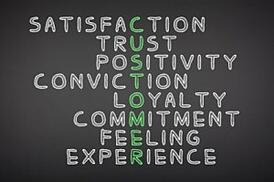 Earlier this year, IBM published the results of a study that was done by Forrester Research about how today's empowered customers are thinking, and the importance of really knowing your customer. The study was called Empowered Customers Drive Collaborative Business Evolution.
We often talk here at Score More Sales about acquiring new customers, and probably don't do enough talking about retaining and growing the good existing business we have.
Jeff Ernst, Principal Analyst at Forrester Research narrates the overview
This study was done by interviewing nearly 400 U.S. and U.K. corporate leaders on how today's buyers are changing the way we must do business.
Buyers have high expectations which are set by others in your industry – for example when front desk staff greet you buy name at leading hotel chains – you expect that everywhere. When they have your hotel room ready with your specific preferences – for me it is a softer pillow – you want all of your hotel experiences, whether with them or with their competitors to be as value-added.
Changing customer needs and expectations was the top external force driving the biggest need for change in the survey respondents' own companies. Universally, our heightened level of customer expectations are now an imperative.
So what to do about it? The study showed four areas to improve customer experience:
1) Align the organization around the customer life cycle
2) Drive capture and use of customer insights – focus on the right analytics for answers
3) Deliver visible value at every touch point
4) Align customer experience and technology initiatives. IT needs to be a partner in this.
You can download the report here from IBM
Also to get closer to your customer's interests, consider Joe Pulizzi's 42 Content Marketing Ideas for 2013.
Better focus on our buyers and our customers will mean greater revenues and consistent growth next year.



This post was written as part of the

IBM for Midsize Business

program, which provides midsize businesses with the tools, expertise and solutions they need to become engines of a smarter planet.

Lori Richardson is recognized as one of the "Top 25 Sales Influencers for 2012" and one of "20 Women to Watch in Sales Lead Management". Lori speaks, writes, trains, and consults with inside and outbound sellers in technology and services companies. Subscribe to the award-winning blog and the "Sales Ideas In A Minute" newsletter for sales strategies, tactics, and tips.