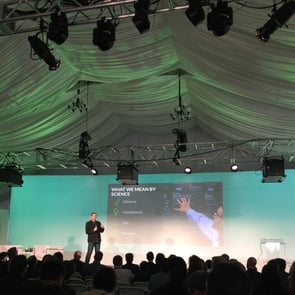 After a very full day at sales summit Accelerate '16 in Park City, UT, put on by InsideSales.com, there is no question how professional selling is changing through more science and data.
CEO Dave Elkington spoke from the main stage and shared one of the results from their Business Growth Index results polling customers and non-customers.
"75% of sales leaders are predicting steady or accelerating growth in 2016"
He also presented details on InsideSales.com's announcement of 2 new tools (of what seem to be several) to help sales reps better manage the relationships with the prospective buyers in their pipeline.
Jared Halek, who is VP of Product came to the main stage and demoed a new product called Playbooks. I liked what they showed in that it will help sales reps be more organized AND through IS's Neuralytics platform it serves up to the rep just who to contact next, based on some data points. It reminded me of Salesloft's Cadence product – I've yet to see a demo but will do so before I leave the event.
The other product shown seemed incredibly amazing to me, after working with thousands of reps – helping them onboard and get their bearings learning how to do an SDR or BDR role.
This product is code named, "Project Superhero" – named because it is going to give a very structured approach for new reps, BDRs, ADRs, and SDRs on what to do when they sit down at their desk along with what to do next. This is the big thing in a front line sales position – new reps don't know what to do.
I've seen new sellers surf the web, work on research, or get focused on one way to reach out to prospective buyers and develop some very bad habits due to poor training or poor coaching with a scattering of tools to use which don't work together.
If Superhero works as shown, it could revolutionize how front line reps work – making them more efficient and effective than ever. Just as important, this platform will help them with insights to be more personalized with their prospective buyers resulting in better interactions and ultimately a better buyer experience.
It will answer the #1 issue I heard from new SDRs – they would tell me in onboarding:
"Just tell me what we really do / how we help / who to call and I will do that." But it never worked that way – it seemed that even with the best of intentions, reps had to figure out a lot of what their day would consist of through wasting a ton of time and hitting dead-ends.
I participated on a panel moderated by the amazing Ken Krogue, co-founder and President of InsideSales.com along with industry peers Bob Perkins, CEO, AA-ISP, Trish Bertuzzi, Author of The Sales Development Playbook, and Amanda Holmes, CEO of CHI.
Our audience tossed out a lot of questions about tactics and strategies for success in a number of sales roles but primarily on the front line with sales development reps. I'll be writing about takeaways from the panel session plus Day 2.
As the headline stated though – sales IS changing. Tools are getting more helpful and data will be used more than ever for sales focused companies even if they are not in technology – these tools, platforms and products are coming to manufacturing, distribution, professional services, and telecom. Since we work with a lot of "traditional business" we've seen a lack of use of data tools and technology platforms because the SaaS and tech world are less risk averse and willing to try new things. I predict this will change with some of the new technology I saw today.
Are you thinking about how things could change in your sales world?
What is the disruption that can happen in your business space?
How can you reach more prospective buyers with a better, more personalized approach?
Better start thinking – it's happening.
---

Lori Richardson is recognized on Forbes as one of the "Top 30 Social Sales Influencers" worldwide and is a Top 25 Innovative Sales Blogger. Lori speaks, writes, trains, and consults with sales teams in mid-sized companies. Subscribe to the award-winning blog for sales strategies, tactics, and tips.
Increase Opportunities. Expand Your Pipeline. Close More Deals. Develop Sales Leaders
email lori@ScoreMoreSales.com | My LinkedIn Profile | @scoremoresales | G+