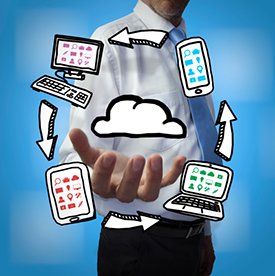 With more and more of our business communications originating or residing in the cloud, it seems like there are hundreds of places our notes, messages, replies and opinions are ending up - from e-mail to Twitter and beyond. How can a company keep track of all the content?
I was fortunate to spend time talking with Steve Marsh, CEO of Smarsh, which is a leading cloud-based archiving company. In the spirit of helping organizations with the basics on digital communications and cloud security, I asked Steve to share his thinking on the topic. Here are some of his thoughts:
SM: While archiving and supervision solutions are often viewed as tools for meeting or demonstrating regulatory compliance, they have solid overall value for smaller and mid-sized business - arming decision makers with information and helping different departments mitigate corporate risk.
LR: Can you give an example of a non-compliance use case?
SM: Sure. Benton County, Washington, a government agency, uses us for risk mitigation related to its IT infrastructure and archiving – in addition to compliance needs. They took a mindful approach in planning for future IT initiatives with social media expansion and email migration. They did not wait until they had a problem – they planned ahead. (show link to use case)
Plus, thousands of statutory requirements in the United States and around the world require the retention of business records, including content found in email, social media, instant messaging, websites and other sources. These requirements affect a broad range of sectors, including energy, financial services, healthcare, publicly held corporations and government. Even if your company isn't in one of these industries, archiving your digital communications can help your business become less vulnerable to risk, and provide specific benefits for your IT, legal, human resources, and marketing teams.
LR: Can you give us a quick look at more of the key benefits of cloud-based archiving?:
SM: Take IT, for example. Archiving of digital communications can serve several functions. One key benefit is that it can help the IT team manage its data security responsibilities, and enforce information governance and compliance policies.
Streamlining of data recovery and restoration. Nobody likes mounting backups to restore operations or data. Offloading emails and files to an archiving system can help expedite recovery time if a data restore or retrieval procedure is needed.
Improved storage management. The migration of email and other digital communications from servers to archival storage can significantly decrease the volume of content stored on a company's servers. This optimizes server performance, and results in faster backups and restoration of service in the event of an interruption. Preserving data in the archive - in purpose-built, geographically dispersed data centers - is also beneficial because a company's digital content remains online and securely accessible to authorized users at all times.
Increased employee productivity. An archiving solution can enable employees to locate, access, and retrieve their older (or missing) emails and attachments without the need for IT intervention.
In talking with Steve, I realized that this is not just about compliance, but rather a company strategic mindset for increased productivity, better management, and better security that all SMBs and mid-sized organizations and the partners they do business with need.
Have you looked into this for your organization? It directly ties into your company growth, sales, marketing and how employee data and communications are managed. While it may not sound sexy to talk about, it is critical for your business success.

This post was written as part of the IBM for Midsize Business program, which provides midsize businesses with the tools, expertise and solutions they need to become engines of a smarter planet. I've been compensated to contribute to this program, but the opinions expressed in this post are my own and don't necessarily represent IBM's positions, strategies or opinions.

Lori Richardson is recognized as one of "50 Most Influential in Sales Leads Management" and on Forbes as one of the "Top 30 Social Sales Influencers" worldwide. Lori speaks, writes, trains, and consults with inside sales teams in mid-sized companies. Subscribe to the award-winning blog and the "Sales Ideas In A Minute" newsletter for sales strategies, tactics, and tips. Increase Opportunities. Expand Your Pipeline. Close More Deals.
email lori@scoremoresales.com | View My LinkedIn Profile | twitter |Visit us on google+