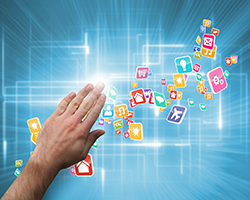 Last October, IBM commissioned a study to learn more about the impact that seemingly "good" or "bad" mobile apps had on a company's brand. In other words, when a consumer uses their favorite company's mobile app, did they have a good experience, and if so, what implications does that have?
Costs and Success Vary
We've all used an app that seemed useless and a waste of time at one point or another. The "Good App/Bad App" study showed that using Forrester Consulting's cost model, companies can save 10% on building apps and 20% on running them. In addition, by not following best practices, a company could pay 50% more to run their mobile apps. Clearly, who you partner with – in house or outside of your company is a critical element for success.
Employee Productivity Increases
The study showed that well-designed enterprise apps can increase employee productivity 42% and partner productivity 40%, while driving costs down.
Portland, OR based Yesmail Interactive is a case in point. They implemented mobile job aids to increase knowledge retention among their sales team – account managers and other support staff delivered through various mobile devices. This immediately resulted in a 15% increase in renewals and upsells of their services. Theirs is a conservative result – many companies are seeing bigger gains with larger teams and a more intimate customer experience rolled out.
Cost Drivers of Mobile Apps
The research uncovered ten key cost drivers in the creation of mobile apps. They are:
Development Resources
Delivery Timeframe
App Complexity
Cross-Platform Capability
Frequency of App Updates
App Testing
Data Integration
Platform Analytics
Mobile App Security
Process Change Management
So What Makes a Good Mobile App?
Business users in the study rated these areas as most important, in this order:
The right goal for the app – what is it that you need it to do?
The security /compliance measures of the app
The right look and feel
Like the Wild West
Mobile app development is still a new area. In the training world, we talk about how customers demand development well done, done quickly, and for a low cost. Our answer, when someone asks for all three is to "choose 2." It is no different in the development of apps – companies struggle with whether to roll a new app out quicker with less R&D or slow down and perfect. This is an emerging field and in the end, the user is the one to give an app a couple of tries then move on to something that will work better, making the user queen or king.
The Future is Rich
As companies and their partners create more apps that make the customer experience better, deeper, and richer, we will start to see more personalized buying experiences, involving proximity-aware apps bringing the digital experience and the physical location together. The possibilities to help your buyer interact in a positive manner and leave that experience as an advocate are exciting.
For more on this, take a look at the press release from IBM's InterConnect 2015 show this past week and the new IBM Mobile FirstPlatform.
How is your company looking at mobile apps? What can be created to help your partners and customers make business growth happen?

This post was written as part of the IBM for Midsize Business program, which provides midsize businesses with the tools, expertise and solutions they need to become engines of a smarter planet. I've been compensated to contribute to this program, but the opinions expressed in this post are my own and don't necessarily represent IBM's positions, strategies or opinions.

Lori Richardson is recognized as one of "50 Most Influential in Sales Leads Management" and on Forbes as one of the "Top 30 Social Sales Influencers" worldwide. Lori speaks, writes, trains, and consults with inside sales teams in mid-sized companies. Subscribe to the award-winning blog and the "Sales Ideas In A Minute" newsletter for sales strategies, tactics, and tips. Increase Opportunities. Expand Your Pipeline. Close More Deals.
email lori@scoremoresales.com | View My LinkedIn Profile | twitter |Visit us on google+